From UDiscoverMusic.com:

The Temptations have today [3] announced details of their much-anticipated new album. In honor of their 60th anniversary year and its ongoing celebrations, it will be titled TEMPTATIONS 60 and released by UMe on January 28, 2022.
The album consists of nearly all-original songs that are both modern and classic in feel and sound, and features the track "Is It Gonna Be Yes Or No," written and produced by and featuring Motown superstar and longtime Tempts collaborator Smokey Robinson. The song was released as a lead single in September.

As well as showcasing tracks produced by members of the "Emperors of Soul," the album brings their modern-day line-up together with another key producer/collaborator in their unmatched history, Narada Michael Walden. The Grammy-winning Walden, who produced their last platinum-selling album, 1998's Phoenix Rising, oversees the biographical "When We Were Kings." The celebratory track is available now and sums up the Temptations' legacy to this point, namechecking many of the group's members. "Breaking My Back," meanwhile, is a new love song evoking the sound of their classic catalog.
Dr. Otis Williams, the group's founding member and executive producer of the album, who celebrated his 80th birthday on October 30, says: "Our new album carries with it, our legacy, our love of music and our hope that through our music we can uplift and bring people together. Most of all, we want fans to enjoy it and share it with family and friends around the world. It's a thank you gift from our hearts to all of our fans, past, present and future."
True to the group's tradition, the new album combines love songs with topical tracks. Along with Dennis Nelson and Thomas "TC" Campbell, Williams co-produced five of its 12 tracks, including the harmony-infused ballad "Calling Out Your Name" and the uptempo "You Don't Know Your Woman" and "How Do You Spell Love."
Another highlight, co-produced by Williams, is an updated version of "Come On," the first recording by Otis Williams & the Distants, precursors to the Temptations, in 1959. It features a special monologue about the group's history.
Longtime Temptation leading vocalist and songwriter Ron Tyson, who joined the group in 1983, co-produced two tracks with Campbell. They are "Time For The People," a powerful statement addressing modern issues that's described as a "Ball of Confusion" for the 21st century, and the island-flavored love song, "I Want It Right Now."
Also on board is Dave Darling, who produced the group's last album, 2018's acclaimed All The Time, and who supervises a cover of "My Whole World Stopped Without You," the song by Hollywood, California-based, modern-day R&B band Vintage Trouble.
The album opens with the uniquely contemporary "Let it Reign," featuring Queens New York-based hip-hop artist K. Sparks. It represents the latest bold update by a group who have never shied away from reinvention and experimentation, echoing the sonic update of "Cloud Nine" in the late 1960s and incorporating hip-hop, smooth jazz, and their deeply soulful elements.
Pre-order TEMPTATIONS 60, which is released on January 28, 2022.

Listen to "When We Were Kings" from TEMPTATIONS 60;
https://youtu.be/wIxVBRT1gfc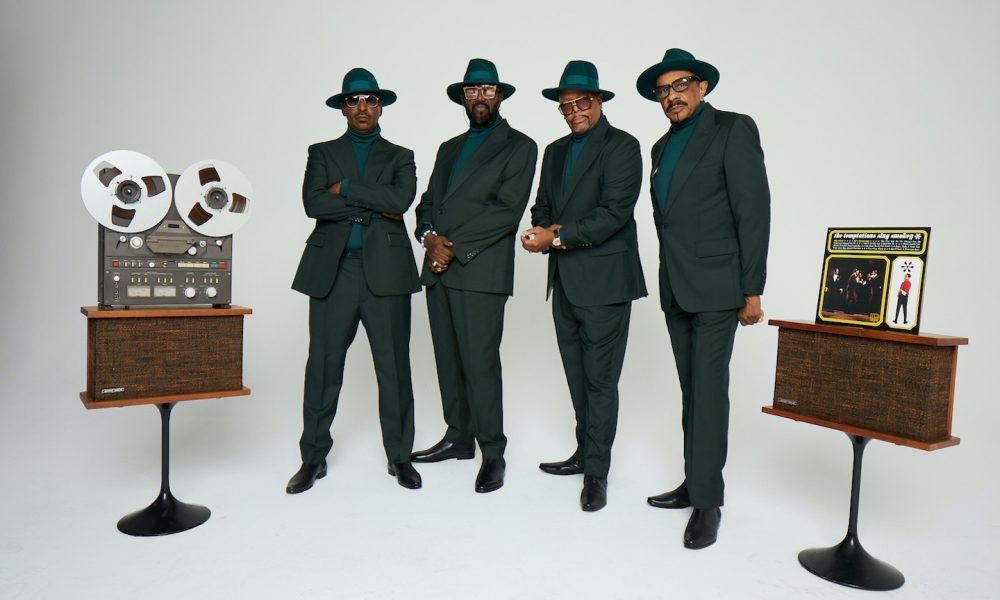 Wishing a Happy 92nd [and Many, Many, More] to Berry Gordy, Jr! To paraphrase a Motown Classic, Our Worlds Would Be Empty Without You.
While looking at the UK mid-week album charts [[to see how Diana's 'Thank You' album is doing]], I noticed a new album currently sitting at #17.
The album features original vocals by Motown artists, plus newly-created 'duets' along with new instrumentation by the Royal Philharmonic Orchestra.
Hadn't heard anything about this but sounds interesting:
1. Dancing In The Street – Martha Reeves & The Vandellas
2. Reach Out I'll Be There – The Four Tops
3. I Heard It Through The Grapevine – Marvin Gaye
4. What Becomes Of The Brokenhearted – Jimmy Ruffin with Mica Paris
5. The Tears Of A Clown – Smokey Robinson & the Miracles
6. I'll Be There – The Jackson 5
7. I Hear A Symphony – The Supremes
8. Abraham, Martin & John – Marvin Gaye with Beverley Knight
9. My Girl – The Temptations
10. Just My Imagination [[Running Away With Me) – The Temptations
11. With You I'm Born Again – Billy Preston & Syreeta
Description
A 50th anniversary celebration calls for some champagne…champagne soul, that is! Back in 1966, Billy Davis, Jr., Florence LaRue, Marilyn McCoo, Lamonte McLemore, and Ron Townson first started making beautiful music together, and the world of pop music has never been the same. Now, in 2016, 50 years later, Real Gone Music is proud to present the most comprehensive 5th Dimension collection ever compiled, a 3-CD set containing their complete singles for the Soul City and Bell labels [plus their first single on the Bronco label as The Versatiles and their lone single release for Arista], 61 tracks of swinging, soulful harmonies, brilliant arrangements, groundbreaking production, and some of the best songwriting to come out of the '60s and '70s. This 3-CD set—which is housed inside a sumptuous, 8-panel digipak mini-album featuring rare photos—not only includes 30 Pop and 15 R&B hits, all in their hard-to-find, mono mixes [only the last four tracks on the set are in stereo], featuring such legendary recordings as "Up—Up and Away," "Stoned Soul Picnic," "Aquarius/Let the Sunshine In," "Wedding Bell Blues," "One Less Bell to Answer," "[Last Night] I Didn't Get to Sleep at All," and "If I Could Reach You," but also some rare, non-LP single sides and single edits, nearly all making their CD debuts here! With production by the great Bones Howe, vocal arrangements by Bob Alcivar, and the instrumental accompaniment of the famed Wrecking Crew, the confluence of talent on these sides is simply staggering. And, of course, The 5th Dimension brought the songwriting genius of Laura Nyro and Jimmy Webb to the masses; their collaborations with Webb in particular remain among the pinnacles of '60s pop. Remastered by Mark Wilder at Battery Studios, and with notes by Paul Grein featuring quotes from Billy Davis, Jr. and Marilyn McCoo that trace the historic arc of the group, The Complete Soul City/Bell Singles 1966-1975 isn't just the definitive look at The 5th Dimension; it's a collection that defines the whole sunshine pop genre.

Note: this is a repress of collection from 2016.
Tracklist
[CD1]
1. You're Good Enough For Me
2. Bye Bye Baby
3. I'll Be Lovin' You Forever
4. Train Keep On Movin'
5. Go Where You Wanna Go
6. Too Poor To Die
7. Another Day, Another Heartache
8. Rosecrans Blvd.
9. Up Up & Away
10. Which Way To Nowhere
11. Paper Cup
12. Poor Side Of Town
13. Carpet Man
14. The Magic Garden
15. Stoned Soul Picnic
16. The Sailboat Song
17. Sweet Blindness
18. Bobbie's Blues [Who Do You Think Of?]
19. California Soul
20. It'll Never Be The Same Again

[CD2]
1. Aquarius/Let The Sun Shine In [The Flesh Failures]
2. Don't Cha Hear Me Callin' To Ya
3. Workin' On A Groovy Thing
4. Broken Wing Bird
5. Wedding Bell Blues
6. Lovin' Stew
7. Blowing Away
8. Skinny Man
9. The Declaration
10. A Change Is Gonna Come/People Gotta Be Free
11. The Girls' Song
12. Puppet Man
13. A Love Like Ours
14. Save The Country
15. Dimension 5ive
16. On The Beach [In The Summertime]
17. This Is Your Life
18. One Less Bell To Answer
19. Feelin' Alright?
20. Love's Lines Angles & Rhymes
21. The Singer

[CD3]
1. Light Sings
2. Viva Tirado
3. Never My Love
4. Together Let's Find Love
5. I Just Wanta Be Your Friend
6. [Last Night] I Didn't Get To Sleep At All
7. The River Witch
8. If I Could Reach You
9. Tomorrow Belongs To The Children
10. Living Together Growing Together
11. What Do I Need To Be Me
12. Everything's Been Changed
13. There Never Was A Day
14. Ashes To Ashes
15. Flashback
16. Diggin' For A Livin'
17. Harlem
18. My Song
19. No Love In The Room
20. I Don't Know How To Look For Love
https://www.amazon.com/dp/B01M65ADE0/?tag=imwan-20
I am aware that we have some huge fans on here of the Marvelettes' cult favorite The Boy From Crosstown. But today as I was making my rounds [[at an appropriate volume of course!) I played my Best of the Angels CD and was surprised to discover that they had their own Boy From Crosstown.

Now it is a different song altogether and their title, just as I typed it, begins with Boy instead of The, but I still found it an interesting coincidence. Maybe one of you more talented types can provide a link for listeners to hear their song and compare the two.