Just in case it hasn't been posted before [[search proved fruitless) - here's Sister's Love with "Mr Fix It Man". Saw them with The Jackson 5 November 1972.


In the late 60s and early 70s Motown signed several well established acts but then sort of took their eye off the ball resulting in frustration. True that a lot was happening at once with the move to LA and entering the film industry with "Lady Sings The Blues". Nevertheless there were some fantastic tracks from artists such as Frankie Valli & The Four Seasons, Bobby Darin and to a lesser extent Sammy Davis Jr and Lesley Gore.
Thankfully, in the case of Bobby Darin, material that had long been vaulted has been made available over the years - mainly thanks to Joe Marchesse & co [[e.g. Andy Skurrow) who've made it possible for these tracks to see release on CD. The Real Gone CDs have wonderful liner notes as well and are well worth looking up. In particular, "Another Song On My Mind" includes a great resume of Darin's Motown career - much of this can still be seen on the Real Gone website -
https://theseconddisc.com/2011/02/16...-motown-years/
You can see the full CD artwork here -
https://www.flickr.com/photos/cookep...57668721459480
And here are the covers for Darin's Motown albums / CDs
https://www.flickr.com/photos/cookep...in/dateposted/
Please advise of any errors
BOBBY DARIN MOTOWN DISCOGRAPHY
Recorded - 6 February 1971 Live at The Desert Inn [[Renamed "Finally" but still unreleased at the time)
M1183 – 17 April 1971
A Melodie
B Someday We'll Be Together
M1193 – November 1971
A Simple Song Of Freedom
B I'll Be Your Baby Tonight
M1203 – 2 June 1972
A Sail Away
B Hard Headed Woman
M753 ALBUM AUGUST 1972 – Bobby Darin
M1212 – Promo 3 November 1972 [[withdrawn)
A Average People [[mono)
B Average People [[stereo)
M1212 – 3 November 1972 [[probably a bootleg)
A Average People
B Something In Her Love
M1217 – 20 November 1972
A Happy [[Love Theme From "Lady Sings The Blues")
B Something In Her Love
Bobby Darin died 20 December 1973
M813 ALBUM February 1974 – Darin 1936-1973
PR4 [[PROMO EP) - 1974
A1 If I Were A Carpenter
A2 Moritat [[Mack The Knife)
B1 Blue Monday
B2 Happy [[Love Theme From "Lady Sings The Blues")
MW3014 – 1974 [[UK & EU)
A Blue Monday
B Moritat [[Mack The Knife)
M5185 ALBUM July 1981 – Darin 1936–1973 re-issued with 5 tracks having different mixes.
MCD09070MD CD 1987 – Live At The Desert Inn [[first ever issue)
MOTD -5185 CD 1989 – Darin 1936–1973 first issue on CD.
3746351852 CD 1991 – Darin 1936-1973 CD re-issue
NTD-6509-2 CD 2005 – Live At The Desert Inn [[re-issue / remaster / 2 extra tracks "Work Song" and "Beyond The Sea".
RGM-0440 2xCD 6 May 2016 – Another Song On My Mind [[Real Gone Music)
RGM-0714 CD 13 July 2018 – Go Ahead And Back Up [[Real one Music)
I just saw that Eddy Armani's unauthorized book on Tina, "The Real T" has been revised and reissued. I had read about this book over the years but had never managed to get a copy, as it seems it was only released in the UK. I know it doesn't have the best rep with some fans, as it's described as being gossipy, but I went ahead and ordered myself a copy of the revised book. I am curious what he has to say about Tina, as he was her friend and assistant for 22 years. He first came on board with Ike and Tina in the late 60's, as a young fan who sought them out and initially managed their fan mail at their office. He says that he was working on this revised edition prior to her passing and delayed the release, as he did not want to release it too soon.
I watched the first two parts of his interview with Tina fan, Lucas Alexander, on YouTube. It's a four part interview. The last two parts have yet to be posted. It is a bit repetitive at times but also entertaining. His inconsistent British accent is interesting.
Part 1
https://youtu.be/9JbHDSPjJ9Y?si=L37IIRUV0H61PBsL
Part 2
https://youtu.be/98Z1I35d5RI?si=DBmmOuVR-1cbNYfX
The book:
https://www.amazon.com/Real-T-Me-Edd...s%2C125&sr=8-1
Loving hearing Stevie dueting on What Christmas Means To Me and it struck me that although I do not count myself as a huge Cher fan I have found myself really enjoying this festive offering and at 77 she looks and sounds amazing [[even taking into account any help she may get on both fronts).
It made me think that this is the sort of relevant album Miss Ross should have made - a good mix of new and upbeat covers. It's no wonder it's already sitting at number one - she's also made the effort to promote it extensively which never fails to help.
I've never seen this one on CD before. Just pre-ordered mine.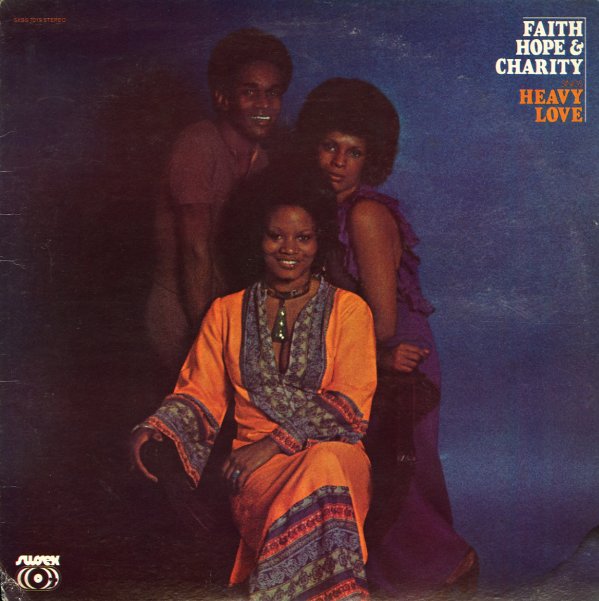 Faith Hope & Charity
Heavy Love
You preordered this item on November 28
CD [[Item 162058) Sussex/Ultra Vybe [[Japan), 1972 — Condition: New Copy
$10.99 ...
CD

List Price: 14.99

Preorder: This title is scheduled for release about Wednesday, December 6.

Add to
Watch List

On
Preorder
Related searches
Faith Hope & Charity
Soul [[CD, LP)

Good album by this female-male-female soul trio, with a lot of tracks written and arranged by Van McCoy, with the good New York soul sound that he was laying down with groups like this in the days before he hit the disco. Zulema's on vocals, and she also wrote a few tracks. Cuts include "God Bless The World", "I Worship The Very Ground You Walk On", "Heavy Love", "I Was There", and "We Can Change The World". © 1996-2023, Dusty Groove, Inc.
Description
To celebrate 50 years since the start of Tina Turner's iconic solo career, 'Queen of Rock 'n' Roll' is a huge compilation of 55 tracks that compiles an incredible anthology of Tina's legendary solo career through her singles. This is the first time Tina's complete singles collection has been released as one set, from Tina's cover of 'Whole Lotta Love' in 1975 all the way up to the Kygo remix of 'What's Love Got to Do With It' in 2020. This set includes a brand-new version of 'Something Beautiful Remains', reworked by legendary producer and long-time collaborator of Tina, Terry Britten, retitled to 'Something Beautiful'.

Tracklist
[CD1]
1. Whole Lotta Love
2. Acid Queen
3. Root, Toot Undisputable Rock 'N Roller
4. Viva La Money
5. Sometimes When We Touch
6. Music Keeps Me Dancin'
7. Let's Stay Together
8. Help
9. What's Love Got To Do With It
10. Better Be Good To Me
11. Private Dancer
12. I Can't Stand The Rain
13. Show Some Respect
14. We Don't Need Another Hero [Thunderdome]
15. One Of The Living
16. It's Only Love [feat. Bryan Adams]
17. Typical Male
18. Two People
19. What You Get Is What You See
20. Girls

[CD2]
1. Break Every Rule
2. Paradise Is Here
3. Afterglow
4. Tearing Us Apart [feat. Eric Clapton]
5. Addicted To Love [Live at Camden Palace, London]
6. A Change Is Gonna Come [Live]
7. Tonight [with David Bowie] [Live at NEC, Birmingham]
8. River Deep, Mountain High [Live in Europe]
9. The Best
10. Steamy Windows
11. I Don't Wanna Lose You
12. Look Me In The Heart
13. Foreign Affair
14. Be Tender With Me Baby
15. It Takes Two [Rod Stewart with Tina Turner]
16. Nutbush City Limits [The 90's Version]
17. Love Thing
18. Way Of The World

[CD3]
1. I Want You Near Me
2. I Don't Wanna Fight
3. Disco Inferno
4. Why Must We Wait Until Tonight?
5. Proud Mary [Edit]
6. Goldeneye
7. Whatever You Want [Alternative Mix]
8. On Silent Wings [Single Edit]
9. Missing You [Single Edit]
10. In Your Wildest Dreams [feat. Barry White]
11. Cose Della Vita [Eros Ramazzotti with Tina Turner]
12. When The Heartache Is Over
13. Whatever You Need
14. Open Arms
15. Teach Me Again
16. What's Love Got To Do With It [Kygo Remix]
17. Something Beautiful [2023 Version]

Amazon USA
Available for pre-order soon:
https://www.amazon.com/dp/B0CJVP5DW3/?tag=imwan-20

Amazon Canada
Available for pre-order soon:
https://www.amazon.ca/dp/B0CJVP5DW3/?tag=imwanca-20

Amazon UK
https://www.amazon.co.uk/dp/B0CJVP5DW3/?tag=imwan-21