In the late 60s and early 70s Motown signed several well established acts but then sort of took their eye off the ball resulting in frustration. True that a lot was happening at once with the move to LA and entering the film industry with "Lady Sings The Blues". Nevertheless there were some fantastic tracks from artists such as Frankie Valli & The Four Seasons, Bobby Darin and to a lesser extent Sammy Davis Jr and Lesley Gore.
Thankfully, in the case of Bobby Darin, material that had long been vaulted has been made available over the years - mainly thanks to Joe Marchesse & co [[e.g. Andy Skurrow) who've made it possible for these tracks to see release on CD. The Real Gone CDs have wonderful liner notes as well and are well worth looking up. In particular, "Another Song On My Mind" includes a great resume of Darin's Motown career - much of this can still be seen on the Real Gone website -
https://theseconddisc.com/2011/02/16...-motown-years/
You can see the full CD artwork here -
https://www.flickr.com/photos/cookep...57668721459480
And here are the covers for Darin's Motown albums / CDs
https://www.flickr.com/photos/cookep...in/dateposted/
Please advise of any errors
BOBBY DARIN MOTOWN DISCOGRAPHY
Recorded - 6 February 1971 Live at The Desert Inn [[Renamed "Finally" but still unreleased at the time)
M1183 – 17 April 1971
A Melodie
B Someday We'll Be Together
M1193 – November 1971
A Simple Song Of Freedom
B I'll Be Your Baby Tonight
M1203 – 2 June 1972
A Sail Away
B Hard Headed Woman
M753 ALBUM AUGUST 1972 – Bobby Darin
M1212 – Promo 3 November 1972 [[withdrawn)
A Average People [[mono)
B Average People [[stereo)
M1212 – 3 November 1972 [[probably a bootleg)
A Average People
B Something In Her Love
M1217 – 20 November 1972
A Happy [[Love Theme From "Lady Sings The Blues")
B Something In Her Love
Bobby Darin died 20 December 1973
M813 ALBUM February 1974 – Darin 1936-1973
PR4 [[PROMO EP) - 1974
A1 If I Were A Carpenter
A2 Moritat [[Mack The Knife)
B1 Blue Monday
B2 Happy [[Love Theme From "Lady Sings The Blues")
MW3014 – 1974 [[UK & EU)
A Blue Monday
B Moritat [[Mack The Knife)
M5185 ALBUM July 1981 – Darin 1936–1973 re-issued with 5 tracks having different mixes.
MCD09070MD CD 1987 – Live At The Desert Inn [[first ever issue)
MOTD -5185 CD 1989 – Darin 1936–1973 first issue on CD.
3746351852 CD 1991 – Darin 1936-1973 CD re-issue
NTD-6509-2 CD 2005 – Live At The Desert Inn [[re-issue / remaster / 2 extra tracks "Work Song" and "Beyond The Sea".
RGM-0440 2xCD 6 May 2016 – Another Song On My Mind [[Real Gone Music)
RGM-0714 CD 13 July 2018 – Go Ahead And Back Up [[Real one Music)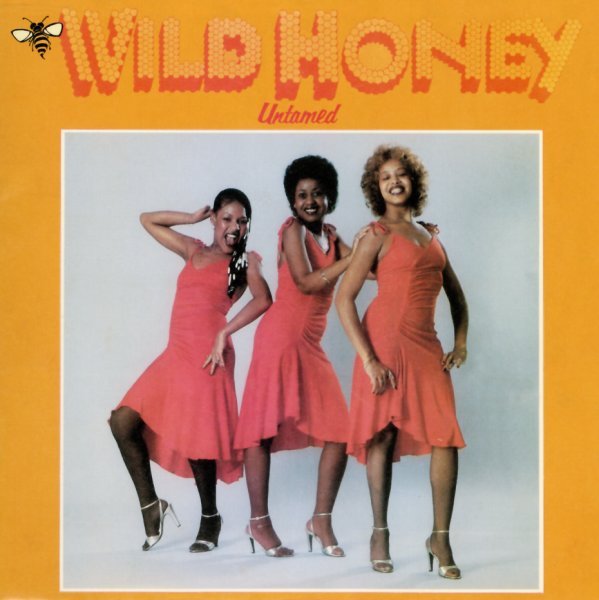 Freddi Poole, Vesta Williams and Mary Flowers
Wild Honey
Untamed
CD [[Item 161982) TK/Ultra Vybe [[Japan), 1979 — Condition: New Copy
$10.99 ...
CD

List Price: 14.99

Preorder: This title is scheduled for release about Wednesday, December 6.

Add to
Watch List

Preorder
this item
Related searches
Wild Honey
Soul [[CD, LP)

An obscure disco trio from the Miami soul scene of the 70s – working here in a way that's maybe like a deep soul take on some of the Philly female trios of the same time! The strings are soaring and the grooves are tight – but there's maybe a richer vocal approach from the group than just a few females singing along with a club track – a mode that could have made them a hell of a southern soul trio had they recorded back in the 60s – and which really keeps things interesting here! Arrangements are by Mike Lewis and Clarence Reid – definitely with some familiar TK Records touches, but also maybe more responsive to the vocal needs of the group as well. Titles include "Just Three Nights Away From You" and "Can You Smell My Love Burning", both fantastic ballads – plus "You Danced Your way Into My Life", "This Time Tomorrow", "Selfish For Unselfish Reasons", and "Oops Oops Means I Love You". © 1996-2023, Dusty Groove, Inc.
It's no secret that during the mid-to-late 1980"s and 1990's, several books about Motown Record Corporation were being released, one after another. Some dealt with the behind-the-scenes goings-on at the record company itself; some dealt with the Motown recording artists; and, at least two were reference books devoted to the physical records themselves -- a Motown singles and albums discography, as well as a book devoted to Motown masters and how to tell which pressing a Motown single is from.

Looking back, were there any newly-discovered, behind-the-scenes Motown tidbits which particularly inspired you? In other words, it could be an event that happened or a discovery that made you feel good and gave your heart the Motown fuzzies! Or it could be something you found to be especially surprising or even concerning. To keep it fun, however, let's concentrate on the positive and not the negative.

[NOTE: To avoid any trouble, I'm only asking for the positive occurrences at Motown -- nothing negative regarding Diana or Mary. Kindly save those remarks for the DRATS thread.]

Put on your thinking caps. Those books were fun and informative as well as sometimes shocking. Once you started reading, they were hard to put down.
I think I was maybe 16 when I got the Marvin & Kim album "Take Two." I recall distinctly having the feeling I was hearing a "New Motown Sound" hit [["It Takes Two") that had been tacked onto an album of "Old Motown Sound" material - and this was early on in my Motown journey. Does anyone else recall having the same feeling when they played the album?
As time went by, of course I started learning more here and there and two of the biggest helps were the sites DFMC and "Both Sides Now," where I learned that there was supposed to be an album released by Marin and Kim called "Side By Side" [TS 260], I'm guessing in '64. My guess is that Motown was hoping for a hit with "What Good Am I Without You" and the album would capitalize on it. When the record didn't become as big a hit as Motown maybe hoped for, the LP was shelved. Just by happenstance, when "It Takes Two" became a hit, Motown dusted off the shelved album and with a couple of substitutions of older album tracks, branded the new album "Take Two."
It's too bad that other, more-spirited tracks like "Baby [[Don't You Leave Me)", "That'll Be The Day", "Just Too Much To Hope For" and "Give A Little Love" weren't used on the album. Those tracks would have given the LP a more contemporary and exciting sound. Or maybe Motown was looking ahead to a second Marvin/Kim album, not knowing Kim would soon be leaving.
WELL, WELL, WELL
This is VERY interesting. I just found an old thread here on the board that discussed this album. Apparently there was talk about "Side By Side" being an album containing material by Marvin & Kim AND Marvin & Mary Wells AND Marvin and Oma Heard. Seems odd, but, well, read the thread and draw your own conclusions.
https://soulfuldetroit.com/showthrea...ot-Tamla-T-260
The Japanese label Marlin/Ultra Vybe will be releasing the Ritchie Family's albums "African Queens" and "Life Is Music" on CD, on December 20th. Dusty Groove has the product listings up on their website, showing as 'coming soon'.
https://www.dustygroove.com/search.p...ritchie+family
They are currently available for pre-order from CD Japan...
https://www.cdjapan.co.jp/searchuni?...Ritchie+family
As Lakeside had already posted in a separate thread, this same label is issuing Wild Honey's album on CD...
https://soulfuldetroit.com/showthrea...582-Wild-Honey