01 Teddy Pendergrass - The More I Get, the More I Want [[John Morales M+M Mix)
02 MFSB - Love Is the Message [[John Morales M+M Mix)
03 Teddy Pendergrass - Life Is a Song Worth Singing [[John Morales M+M Mix)
04 The Jones Girls - Life Goes On [[John Morales M+M Mix)
05 Harold Melvin & The Blue Notes - Don't Leave Me This Way [[John Morales M+M Mix)
06 Jean Carn - Was That All It Was [[John Morales M+M Mix)
07 Teddy Pendergrass - If You Know Like I Know [[John Morales M+M Mix)
08 Teddy Pendergrass - Only You [[John Morales M+M Mix)
09 The Jones Girls - You Gonna Make Me Love Somebody Else [[John Morales M+M Mix)
10 MFSB - Love Is the Message [[Philly Long Message Street Strutin' Mix)
https://www.amazon.co.uk/Philadelphi.../dp/B09M4DYT68
Reviewing the final issues of Billboard for 1971 and Motown is placing ads for the five LP box set for Christmas: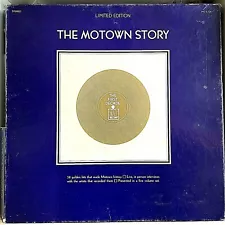 Discogs refers to its release as being 1970, so are these ads for it from its second year of availability?? Or did it really come out in 1971??
Also Berry Gordy does a voice intro beginning at 1:00 of Cut One. Interesting to hear his vocal from then:
if we'd gone any year without hit records......we went out of business!
Remarkable man and story:cool:.
Description
A 50th anniversary celebration calls for some champagne…champagne soul, that is! Back in 1966, Billy Davis, Jr., Florence LaRue, Marilyn McCoo, Lamonte McLemore, and Ron Townson first started making beautiful music together, and the world of pop music has never been the same. Now, in 2016, 50 years later, Real Gone Music is proud to present the most comprehensive 5th Dimension collection ever compiled, a 3-CD set containing their complete singles for the Soul City and Bell labels [plus their first single on the Bronco label as The Versatiles and their lone single release for Arista], 61 tracks of swinging, soulful harmonies, brilliant arrangements, groundbreaking production, and some of the best songwriting to come out of the '60s and '70s. This 3-CD set—which is housed inside a sumptuous, 8-panel digipak mini-album featuring rare photos—not only includes 30 Pop and 15 R&B hits, all in their hard-to-find, mono mixes [only the last four tracks on the set are in stereo], featuring such legendary recordings as "Up—Up and Away," "Stoned Soul Picnic," "Aquarius/Let the Sunshine In," "Wedding Bell Blues," "One Less Bell to Answer," "[Last Night] I Didn't Get to Sleep at All," and "If I Could Reach You," but also some rare, non-LP single sides and single edits, nearly all making their CD debuts here! With production by the great Bones Howe, vocal arrangements by Bob Alcivar, and the instrumental accompaniment of the famed Wrecking Crew, the confluence of talent on these sides is simply staggering. And, of course, The 5th Dimension brought the songwriting genius of Laura Nyro and Jimmy Webb to the masses; their collaborations with Webb in particular remain among the pinnacles of '60s pop. Remastered by Mark Wilder at Battery Studios, and with notes by Paul Grein featuring quotes from Billy Davis, Jr. and Marilyn McCoo that trace the historic arc of the group, The Complete Soul City/Bell Singles 1966-1975 isn't just the definitive look at The 5th Dimension; it's a collection that defines the whole sunshine pop genre.

Note: this is a repress of collection from 2016.
Tracklist
[CD1]
1. You're Good Enough For Me
2. Bye Bye Baby
3. I'll Be Lovin' You Forever
4. Train Keep On Movin'
5. Go Where You Wanna Go
6. Too Poor To Die
7. Another Day, Another Heartache
8. Rosecrans Blvd.
9. Up Up & Away
10. Which Way To Nowhere
11. Paper Cup
12. Poor Side Of Town
13. Carpet Man
14. The Magic Garden
15. Stoned Soul Picnic
16. The Sailboat Song
17. Sweet Blindness
18. Bobbie's Blues [Who Do You Think Of?]
19. California Soul
20. It'll Never Be The Same Again

[CD2]
1. Aquarius/Let The Sun Shine In [The Flesh Failures]
2. Don't Cha Hear Me Callin' To Ya
3. Workin' On A Groovy Thing
4. Broken Wing Bird
5. Wedding Bell Blues
6. Lovin' Stew
7. Blowing Away
8. Skinny Man
9. The Declaration
10. A Change Is Gonna Come/People Gotta Be Free
11. The Girls' Song
12. Puppet Man
13. A Love Like Ours
14. Save The Country
15. Dimension 5ive
16. On The Beach [In The Summertime]
17. This Is Your Life
18. One Less Bell To Answer
19. Feelin' Alright?
20. Love's Lines Angles & Rhymes
21. The Singer

[CD3]
1. Light Sings
2. Viva Tirado
3. Never My Love
4. Together Let's Find Love
5. I Just Wanta Be Your Friend
6. [Last Night] I Didn't Get To Sleep At All
7. The River Witch
8. If I Could Reach You
9. Tomorrow Belongs To The Children
10. Living Together Growing Together
11. What Do I Need To Be Me
12. Everything's Been Changed
13. There Never Was A Day
14. Ashes To Ashes
15. Flashback
16. Diggin' For A Livin'
17. Harlem
18. My Song
19. No Love In The Room
20. I Don't Know How To Look For Love
https://www.amazon.com/dp/B01M65ADE0/?tag=imwan-20
Interesting story about Berry Gordy and Motown in Washington Post. Berry is a Kennedy Center honoree and will be honored this Sunday. The event will be broadcast on CBS at a later date. I wonder which Motown artists will be there to honor him
https://www.washingtonpost.com/arts-...center-honors/
Enjoyed watching the Beatles 6 hour documentary recently.
Also enjoyed how they played off each other, you could tell they were in sync with one anther. I picked up on a few Motown things, i.e. Ringo was going through a bunch of Smokey albums, Stevie Wonder was mentioned a few times and the most impressive was when George Harrison brought up Reach Out and started singing it while the others also did the same. George was telling Paul Get Back should have the same feel as the great HDH song.