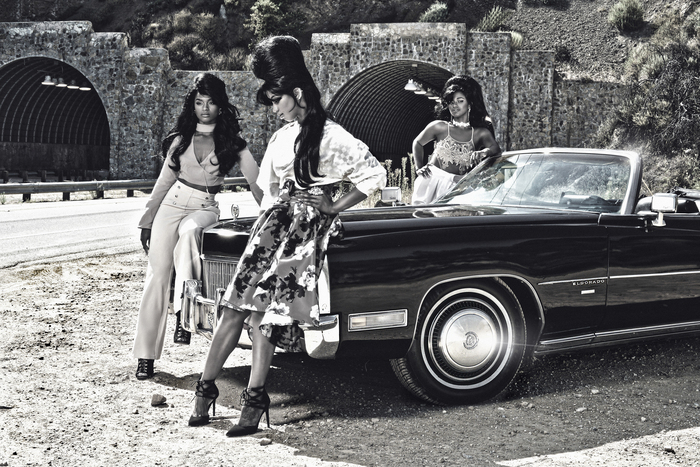 Today, R&B trio
The Womack Sisters
release their debut EP
Legacy
via Ingrooves/ Great Pyramid Media. The six track project presents a well rounded soundtrack of love, relationships and heartbreak. The title is a nod to the sisters building their own legacy while honoring their strong musical roots as the granddaughters of the legendary Sam Cooke, daughters of renowned singer-songwriters and producers Cecil and Linda Womack [[of Womack & Womack) and nieces of singer-songwriter and R&B icon Bobby Womack.
http://news.theurbanmusicscene.com/2...new-ep-legacy/
Article from okayplayer.com-


Sony Music and the estate of Michael Jackson have teamed up for a documentary to commemorate the 40th anniversary of Thriller.
Michael Jackson's 1982 classic Thriller is getting the documentary treatment. A collaboration between Sony Music Entertainment and Jackson's estate, the documentary will focus on the legendary pop album and its accompanying short films that impacted the traditional music video format. Journalist and music historian Nelson George [who also published an unauthorized biography on the singer, The Michael Jackson Story, in 1983] will serve as the doc's director.
The upcoming documentary will feature never-before-seen footage and interviews about Thriller, focusing on Jackson becoming a global superstar. On November 18, a double album titled Thriller 40 will also be released, including a bonus disc of songs that Jackson recorded for the original album that didn't make the final cut.
"The release of Thriller redefined Michael Jackson, taking him from teen star to adult superstar, who composed memorable songs, sang beautifully and reached the highest level of on-stage performance," George said in a statement. "The album, and the short films they inspired, created a new template for marrying music and image. It's been a privilege to explore this extraordinary album and revisit its magic."
"Michael opened and explored emotional depths and pushed the boundaries of sonic innovation on Thriller," John Branca and John McClain, co-executors of the Michael Jackson estate, said. "In the process, he breached destructive barriers in the music industry and literally united the world through his music: there isn't a place on this planet that hasn't been exhilarated by the music of Michael Jackson. This documentary's exploration of Michael's process and impactis revelatory."
Released on November 30, 1982, Thriller went on to win eight Grammy Awards, including Album of the Year, and became the number-one best-selling album of all-time. Since its release, Thriller has sold 100 million copies worldwide, the first album to be certified triple diamond by the RIAA.
On the Bill Cosby Show [[c1969)


Another year, another birthday. This one is a bigeee. Twenty one years is quite an accomplishment. Seems like I have been here forever. Many thanks to all the members and the valuable contributions that keep this place ticking. Couldn´t be done without you.
Previously unreleased compilation from the Jazz Workshop catalog, a Motown Jazz oriented subsidiary founded by Berry Gordy Jr. In 1962. The label was intended to release hi-quality jazz singles with a distinctive pop flavor. Here are five different groupings featuring heavyweights such as Thad Jones, Frank Foster, Sonny Payne, Frank Wess, Cecil McBee, Kirk Lightsey, as well as two original Funk Brothers: guitarist Joe Messina and pianist Johnny Griffith. No matter if in blues, soul, funk, or jazz, Detroit bears one of the deepest black music traditions in America. Now if you want to get through the motor city jazz side this is the right place to start. Features Hank & Carol Diamond, Earl Washington All Stars, Dave Hamilton, Johnny Griffith Trio, George Bohannon Quartet, and Paula Greer.
https://www.amazon.co.uk/Detroit-Jaz...=UTF8&qid=&sr=