Sadly, there are reports coming in this evening on social media that Canadian Motown artist, songwriter and producer, R. Dean Taylor, has passed away. Rest in peace, Mr. Taylor. Thank you for your valuable contributions to music history.
On June 17, 2020, the Hollywood Chamber of Commerce and the City of Los Angeles, announced that the iconic multi-million selling soul/R&B band, THE CHI-LITES, would be honoured in their Class of 2021, by receiving a star on Hollywood Boulevard on the Hollywood Walk of Fame.

On 30th September 2021, with family friends and other soul legends in attendance, including their legendary label mate, Gene Chandler, Marshall Thompson, co-Founder and last surviving member of THE CHI-LITES, accepted the honour on behalf of the band.

Although they had formed nine years earlier, it was when the Band met record producer Carl Davis in 1968 that they signed a contract with Brunswick Records. They began to achieve commercial recognition and success, with songs predominantly written and composed by band member Eugene Record, who was also their lead singer, although their first charting song, 'Give It Away' [US R&B Chart #10] was co-written by Record, with producer Carl Davis.

THE CHI-LITES released more than 15 studio albums and registered on the UK chart on nine occasions, with five Top 10 entries, one of them being the Double-A sided reissue 'Have You Seen Her'/'Oh Girl'.

In 1976, THE CHI-LITES switched labels from Brunswick to Mercury and recorded two albums 'Happy Being Lonely' [1976] and 'The Fantastic Chi-Lites' [1977], before teaming-up again with Carl Davis on his own Chi-Sound records label, to record 1980's 'Heavenly Body' and 1981's 'Me And You'.

This 38-track/2CD set covers the period 1969-1983 and includes all of their UK hits, as well as most of their international hits. The album also features their original version of 'Troubles A' Comin', which was recently released by The Rolling Stones, despite having been recorded in 1979.

The collection ends in the hard-to-find early-'80s UK soul weekender classic 'Changing For You', which proved that even in the changing musical landscape, THE CHI-LITES were still a force more than a dozen years after their first charting UK single….and more than 40 years later, with their barn-storming 'Are You My Woman [Tell Me So]', the intro from which, being famously and expertly sampled by Beyoncé [and featuring Jay-Z], for her worldwide 2003 hit and Transatlantic #1, 'Crazy In Love'.

Tracklist
[CD1]
1. Are You My Woman [Tell Me So]
2. I Found Sunshine
3. We Are Neighbours
4. Troubles A' Comin'
5. Don't Burn No Bridges - [Jackie Wilson & The Chi-Lites]
6. [For God's Sake] Give More Power To The People
7. The Man & The Woman [The Boy & The Girl]
8. The Devil Is Doing His Work
9. Inner City Blues [Makes Me Wanna Holler]
10. Stoned Out Of My Mind
11. We Need Order
12. You Got To Be The One
13. Here I Am
14. That's How Long
15. There'll Never Be Any Peace [Until God Is Seated At The Conference Table]
16. It's Time For Love
17. My First Mistake
18. Vanishing Love - Single Version
19. You Don't Have To Go

[CD2]
1. Too Good To Be Forgotten
2. Oh Girl
3. A Letter To Myself
4. The Coldest Days Of My Life [Pt 1]
5. Have You Seen Her
6. A Lonely Man
7. I Like Your Lovin' [Do You Like Mine]
8. 24 Hours Of Sadness
9. My Heart Just Keeps On Breakin'
10. Give It Away
11. Let Me Be The Man My Daddy Was
12. I Want To Pay You Back [For Loving Me] - Single Version
13. Homely Girl
14. If I Had A Girl
15. Happy Being Lonely - Single Version
16. Heavenly Body - [The Chi-Lites feat. Eugene Record]
17. Me And You - [The Chi-Lites feat. Eugene Record]
18. Hot On A Thing [Called Love] - [The Chi-Lites feat. Eugene Record]
19. Changing For You

Amazon USA
Available for pre-order soon:
https://www.amazon.com/dp/B09PMFY97H/?tag=imwan-20

Amazon UK
https://www.amazon.co.uk/dp/B09PMFY97H/?tag=imwan-21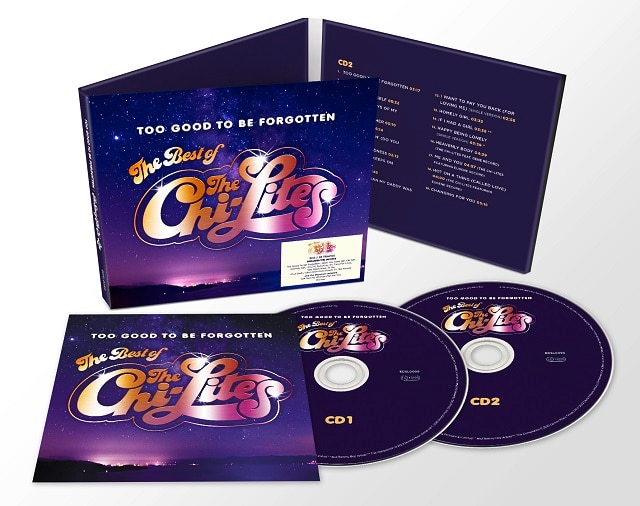 I probably chose the wrong term, 'subsidiary', when writing the title...maybe 'auxiliary' would have been better.

We know Motown branched out to release its artists on different labels as not to saturate the market with everything labeled "Motown" which would have caused some DJs to be reluctant about playing 'yet another Motown record.'

Each label tended to have its own "Motown" sound to my ear. IMO, the Motown label output was more sophisticated and polished. The music I heard from the Tamla label seemed mellow and laidback [[ex. Marvelettes & SR/Miracles). The Temptations and MR/Vandellas' output had an air of grittiness about it on the Gordy label. The Soul label had more of what soul music was sounding like from the other companies during the 60s. These are just what I consider the major Motown subsidiaries...yes, Lurlean, there are more.

Although not always the case, the actual recording/mastering process seemed, to my ears, to be quite different especially when comparing the aural aspect of the smooth Tamla recordings and the dynamic sounding Motown recordings.

All of this to say is that Berry and his side people were definitely geniuses in how to market the Motown sound which was really taking off around 1963-64.
I own a piece of "Rayber Corporation" stationery that was saved from the Donovan building however many years ago. I'm well aware of the Rayber record label and production company that Berry Gordy and Raynoma Liles-Gordy started in 1959 that evolved into Motown, but the stationery curiously has the address listed as 4237 Woodward Avenue, which is the address of Graystone Ballroom that is long gone and is now a McDonald's. As far as I can tell, Berry didn't purchase the Graystone until June 1963. So my question is: why/how was Rayber still around in 1963 and what was it responsible for at Motown or elsewhere?
Attachment 19554